Contaminated air ducts contribute to poor indoor air quality
Poor Indoor Air Quality (IAQ) in the workplace is a serious concern. The Environmental Protection Agency (EPA) ranks indoor air pollution (also known as Sick-Building Syndrome or SBS) among the top 5 environmental risks to public health. While many factors, such as fumes from copier machine liquids, carbon-less paper, paint, and cleaning solvents, contribute to poor IAQ, contaminated HVAC systems are a major culprit.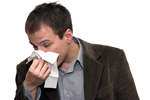 Dirty HVAC systems harbor bacteria, fungi, mold, pollen, dust mites and other disease-carrying biological pollutants which are re-circulated through forced-air systems. Given the right conditions of temperature and moisture, these contaminants can flourish in ductwork and flow out into the work-space. Compounding the problem are buildings which are air tight for the sake of energy efficiency. While no heat or cooling escapes, neither do bacteria or other pollutants.
Poor IAQ affects employees' health and reduces productivity.
Poor IAQ can cause a stuffy nose, sore throat, sneezing, dizziness, dry cough, headache, nausea, skin irritation, itching, and burning eyes, and a host of other problems. In addition, microscopic spores can trigger other allergic reactions including fatigue, fever, chills and upper respiratory problems. All of which can adversely affect an employee's work performance, cause absenteeism and result in lost productivity for the company. Did you know that owners of office buildings may be held legally liable and responsible for health effects and injuries incurred as a result of poor IAQ?
Improve the air in buildings with proper HVAC maintenance.
Experts from leading medical authorities to government agencies like the National Institute for Occupational Safety and Health (NIOSH), agree that much of the causes and problems associated with poor IAQ can be significantly reduced through improved ventilation and proper HVAC system maintenance.
Service-Tech specializes in environmentally friendly, advanced techniques in air duct cleaning with contact vacuuming and source removal in air purification processes. This includes the use of High Efficiency (HEPA) vacuums and constructing containment areas to ensure safe and sanitary conditions.
Additionally, while most HVAC cleaning companies simply clean as far as they can reach into the ductwork, we work our way into the ducts, and where necessary, install access doors to allow for complete cleaning inside and of all the system components. Where needed, we apply an EPA-registered, non-toxic sanitizer, EnviroCON, for added protection against bacteria, fungus and mold.
Before HVAC cleaning
After
Services available from Service-Tech to improve IAQ:
Sealing of Deteriorated Fiberglass Duct Liner
Fiber Optic HVAC Inspections and Testing
Microbial Inspections and Testing
Application of Anti-Microbial Coating to inhibit the Growth of Mold, Mildew and Bacteria
Fire Damaged HVAC Systems
Filter Changing and Cleaning
Heating, Ventilating and Air Conditioning (HVAC) System Cleaning and Sanitizing
Air Handling Units
Coils
Ductwork
Registers, Grilles, Diffusers
The EPA and the National Institute for Occupational Safety and Health have developed a comprehensive guide offering practical, actionable ways to ensure high IAQ. The "Building Air Quality Guide" provides useful instructions on preventing, identifying and resolving indoor air quality (IAQ) problems in public and commercial buildings. Click on the pdf (Section 5 of the Guide) to discover how you can create an IAQ Management Plan for your facility or building.