I want to commend Service-Tech technicians for working without a lot of noise, dust, or disruption while cleaning the air ducts. They covered our workstations and other furniture with care. They were definitively focused and thorough in their work.

Kathy Vannatta
Social Security Administration
Poorly maintained HVAC systems harbor mold, fungi, bacteria, pollen, dust mites and other disease-carrying biological pollutants which are re-circulated through forced-air systems. Given the right conditions of moisture and temperature, these contaminants can flourish in air ducts and be carried out into the work space where humans are exposed.
Cleaning lightly soiled systems and changing the filters can result in energy savings of 11% and up to 30% for heavily soiled systems!
Source: National Air Duct Cleaners Association
Benefits of properly cleaned air ducts/HVAC system:
lower operational and maintenance costs
energy savings due to improved heating/cooling equipment efficiency
cleaner, healthier indoor air
greater work productivity due to fewer illnesses
improved government inspection ratings
cleaner office, classroom, facility and other workplace environments
more professional image with improved environment
Manual access to air ducts assures thorough cleaning

Service-Tech specializes in guaranteed techniques in air duct cleaning with contact vacuuming and source removal in our air purification process including the use of High Efficiency (HEPA) vacuums. While most cleaning companies simply clean as far as they can reach into the ductwork, our certified technicians use manual entry to effectively reach and clean those hard-to-get-at areas within your ducts and HVAC system.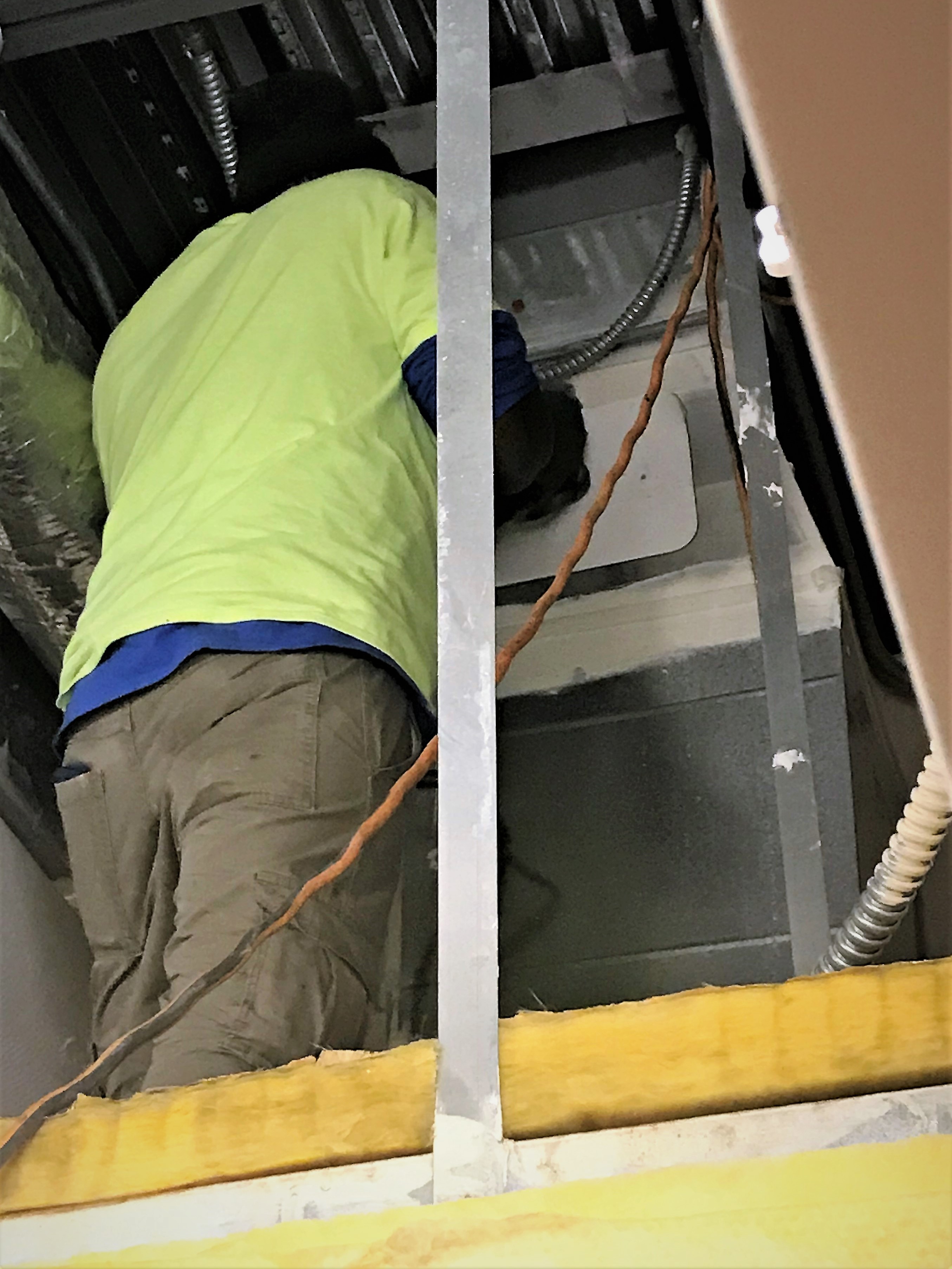 Air handling equipment, including all fresh air intake and return ducts, heating and cooling coils, and fans are thoroughly washed to purge them of dirt and contaminants. Air diffusers and grilles are thoroughly washed, reset to previous positions, and put back into place.
Access Doors: Where necessary, our technicians can install access doors to ductwork, air ducts making it easier to reach and clean all components.
Sanitizing: For added protection against bacteria, virus, fungus and mold within the HVAC system, Service-Tech can apply EnviroCON sanitizer to the interior surfaces of the ductwork and air handling equipment. * EPA-registered, EnviroCON is highly effective in preventing contaminants and leaves no toxic residue in the system.* Not available in Michigan
HVAC Deep Cleaning: We offer HVAC Deep Cleaning Services which work specifically to eliminate viral and bacterial germs that may be harboring in your facilities.
Our HVAC Deep Cleaning involves:
All accessible internal components of the air handling unit are vacuumed clean to remove visible surface contaminants. Coils (heating and evaporator), blowers, blower housings and condensate drain pans, are thoroughly cleaned by high pressure washing as needed. All compartments of the air conditioning units are cleaned, including the outside air intake, return air plenum, filter plenum and supply plenum.
Following the cleaning process, an EPA-registered disinfectant (qualified for use against COVID-19) is applied to the interior surfaces of the air handling unit and AHU components.
The disinfectant product is applied onto the interior surfaces using a suitable spray or fogging device.
Surface coating: Where fiberglass-lined air ducts or duct board are deteriorated or contaminated, a protective coating can be applied to prevent fibers from breaking loose and entering the air flow. Additionally, this coating contains an antimicrobial agent that provides long-term protection against the re-growth of mold and bacteria.
See how steam cleaning removes the dirt and debris from the cooling coils on this air handling unit (AHU). After cleaning this AHU, the flow rate across the coils increased by 1200 cfm (cubic feet per minute). This improved its energy efficiency by 78% and reduced the customer's energy cost by 48%!
This dirty hospital rooftop condenser coil illustrates the need for spring cleaning.
Condenser Coil Cleaning
Condenser coils fouled with dust, dirt and grime cannot properly supply heat transfer and results in greater energy consumption.
Cleaning the condenser coils associated with the air conditioner (AC) unit not only helps the unit cool more efficiently, but also reduces the power consumption. When cleaning condenser coils, our technicians vacuum the coils with a soft bristle brush, and utilize a low-volume, low-pressure wash system to thoroughly flush out the coils without damaging the fins. It is important to properly clean the coils in the spring before the heavy demand on the AC unit during the summer.
In addition to complete cleaning and inspection services, Service-Tech restores HVAC systems with:
antimicrobial coatings
surface coatings for deteriorated fiberglass
coating for rusted metal surfaces
drain pan coating
insulation replacement
As longtime members of the National Air Duct Cleaners Association, Service-Tech adheres to the ACR NADCA Standard, the internationally recognized standard for HVAC cleaning and restoration. The ACR Standard (Assessment, Cleaning and Restoration) establishes minimum performance requirements for:
assessing new and existing HVAC systems
evaluating and verifying the cleanliness of HVAC system components
determining what is needed by way of cleaning and restoration
restoring systems to specific levels of cleanliness
The ACR Standard also focuses on how to prevent job-related hazards, such as exposure to workers and building occupants, and cross-contamination to the indoor environment.
If you are interested in learning of updates to the ACR 2013 Standard, we can notify you. Simply submit your contact information using the form below.
All Service-Tech locations offer HVAC cleaning services
We provide HVAC cleaning to areas throughout the country from our main office locations:

has received the National Air Duct Cleaners Association Safety Award for 19 consecutive years.