Air Duct Cleaning Preserves Your Employees & Equipment
Poorly maintained air duct systems harbors mold, fungi, bacteria, pollen, dust mites, and other disease-carrying pollutants.
Protect your employees from sickness and your equipment from malfunction by having your air ducts thoroughly cleaned with the latest technology from Service-Tech.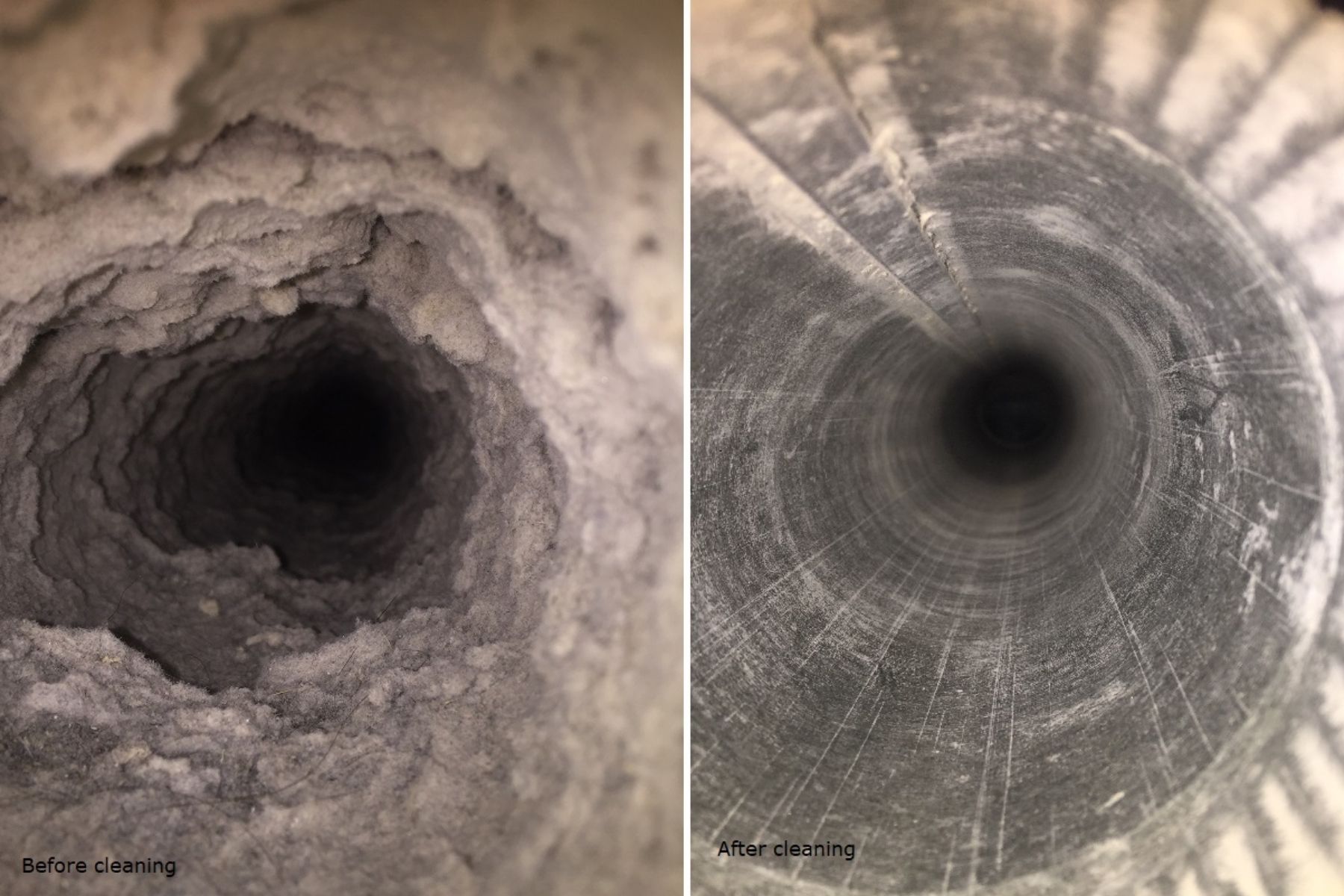 Complete HVAC Air Duct Cleaning
At Service-Tech Corporation, we specialize in guaranteed techniques in air duct cleaning with contact vacuuming and source removal in our air purification process, including the use of high-efficiency particulate air (HEPA) vacuums. While most residential and commercial air duct cleaning companies simply clean as far as they can reach into the ductwork, our certified technicians use manual entry to effectively reach and clean those hard-to-get-at areas within your ducts and HVAC system.
Air handling equipment, including all fresh air intake and return ducts, heating and cooling coils, and fans are thoroughly washed to purge them of dirt and contaminants. Air diffusers and grilles are thoroughly washed, reset to previous positions, and put back into place.
HVAC Condenser Coil Cleaning
Condenser coils fouled with dust, dirt, and grime cannot properly supply heat transfer and result in greater energy consumption. Cleaning the condenser coils associated with the air conditioner (AC) unit not only helps the unit cool more efficiently, but also reduces the power consumption. When cleaning condenser coils, our technicians vacuum the coils with a soft bristle brush, and utilize a low-volume, low-pressure wash system to thoroughly flush out the coils without damaging the fins.

It's important to properly clean the coils in the spring before the heavy demand on the AC unit during the summer.
Click titles below to learn more.
Fire Damper Inspection
Properly installed, inspected, and maintained fire dampers keep occupants safe and ensure compliance.
We provide fire and smoke damper inspections and installations according to the National Fire Protection Association (NFPA) guidelines which call for periodic inspections of the fire, smoke, and ceiling dampers. Our technicians are trained and equipped to fully inspect in adherence to the current NFPA Standard 90A regulations.
During our inspections, we:
Remove/replace fusible links (where applicable)
Ensure all dampers operate properly and fully close
Check latches
Lubricate moving parts as necessary
Install access doors
Provide the necessary written documentation for your records.
Aeroseal Air Duct Leakage Repair
Sealing ducts is one of the best ways to reduce energy costs, improve indoor air quality and enhance building pressurization. It also helps to ensure proper air balance, thereby reducing the risk of pollutants and contaminants from entering ducts and circulating throughout the building.
The sealing process pressurizes the duct system by temporarily blocking inlet and outlet points and injecting a vinyl polymer in vapor form that stays suspended in the air until it detects a leak. The sealant particles are gradually deposited in the leaks by the exiting air-stream as it bends and accelerates through the leaks. As the process continues, the particles begin to accumulate in the leaking cracks and holes until they are eventually sealed.
With Aeroseal, Service-Tech has sealed ducts with as much as 40% leakage before sealing, to less than 10%, and as low as 0%, after sealing.
Click to read how one customer reduced air duct leakage by 94%!
Residential Air Duct Cleaning
Our cleaning techniques are superior to methods used by many other duct cleaners. Our technicians manually enter the ductwork in order to utilize contact vacuuming and mechanical brush systems to guarantee the removal of dirt from all surfaces, including the louvers and dampers. The interior of all accessible ductwork is cleaned with a high-efficiency particulate air filter (HEPA) vacuum. An environmentally safe, EPA-approved sanitizer can be applied where necessary.
We follow NADCA (National Air Duct Cleaners Association) specifications — the highest industry standards in safety and quality of service.
All estimates include the following at no additional charge:
All supply and return ductwork (hot and cold air) is cleaned and inspected.
Air handling equipment (the furnace) is washed to purge dirt and contaminants. This includes heating coils, cooling coils, fan blades and housing, filter section, dampers, and plenum walls.
Air diffusers, grilles, and registers are thoroughly washed and put back into place.
Ceiling and walls surrounding diffusers, registers, and grilles are vacuum cleaned to remove dirt accumulation.
Sanitizing:
For added protection against bacteria, viruses, fungi, and mold within the HVAC system, we can apply EnviroCON sanitizer to the interior surfaces of the ductwork and air handling equipment.
HVAC Deep Cleaning:
Our HVAC deep cleaning cervices work specifically to eliminate viral and bacterial germs that may be harboring in your facilities.
Surface Coating:
Where fiberglass-lined air ducts or duct boards are deteriorated or contaminated, a protective coating can be applied to prevent fibers from breaking loose and entering the airflow.
Access Doors:
Where necessary, our technicians can install access doors to ductwork, making it easier to reach and clean all components.