Prevent contaminants and scaling from corroding your systems.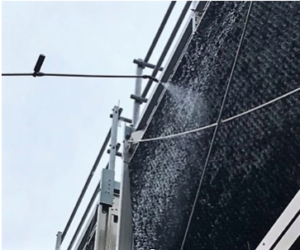 Over weeks and months, nutrients, airborne dirt and debris collect and affix to different components of cooling towers. If not properly maintained, these deposits, along with the scum that accumulates, can cause blockages and corrosion which impairs the operating efficiency. This can lead to significant damage, even possible failure of the system. Additionally, soiled cooling towers decrease the heat exchange efficiency and increase energy costs.
Another critically important reason for proper cleaning and maintenance is to prevent the spread of bacteria including Legionella, known to germinate in cooling towers and other water sources. OSHA (Occupational Safety and Health Administration) recommends cleaning towers be thoroughly cleaned and disinfected twice a year — before the start of the cooling season and after shutdown in the fall.
Service-Tech has been servicing cooling tower systems for nearly 60 years. Our technicians are fully trained and experienced in OSHA protocols (lock out/tag out, containment, proper use of recommended equipment, respiratory protection, personal protective equipment (PPE) and other safety measures). Cleaning and maintenance processes include, but are not limited to, high-volume pressure washing, brushing, scraping, vacuuming and chemical cleaning. STC capabilities include servicing different components throughout the systems, from the rooftop fan housing down to the sump pit. Project leaders assess how to best service the needs of each system and assemble the right team for the project.
Before and after cleaning of:
Cooling tower fan
STC technicians apply manual agitation to soiled fan housings using pressure washing and chemical treatment, where necessary, to prevent growth of microbials and other contaminants.
Cooling tower basin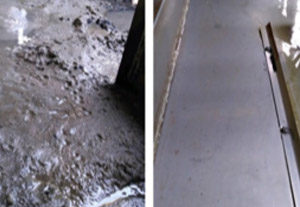 Dirty, sludge-ridden basins are cleaned using high-volume flushing with proper draining to eliminate any clogging of the overflow drainage pipes.
Cooling tower fill and drift eliminators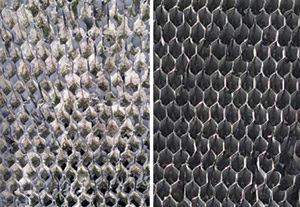 STC technicians strategically remove build up on the fill and drift eliminators with power washing and other appropriate methods. Chemical treatment is applied when necessary.

has received the National Air Duct Cleaners Association Safety Award for 19 consecutive years.