Get the proper care to prevent safety hazards and lost profits.
Service-Tech services our HVAC units, cleans our walls and ceilings and equipment. They even pressure-wash our tunnels. Their guys are qualified in a number of specialized services and are very good at following details to meet our specific requirements. When the job is done, you know it's been done right.
Larry McCartney,
Utility Manager
Dannon Company
We offer a wide range of industrial cleaning and maintenance solutions to keep your buildings running safely and efficiently (see services listed below). Our certified technicians are trained in OSHA (Occupational Safety and Health Administration), IKECA (International Kitchen Exhaust Cleaning Association) and NADCA (National Air Duct Cleaning) protocols. Click to see our list of certifications. Service-Tech's expertise and specialized equipment allows us to handle your most challenging industrial cleaning needs. In all projects we take on, our managers work closely with each customer to establish an efficient plan to complete the project with minimal disruption to your daily operations.
In recent years, there are growing concerns about the risks of combustible dust — the fine particulate dust generated from products such as wood, metals, grains, chemicals, plastics, paper and certain textile materials. In some circumstances, these dusts can cause deflagration, other fires or an explosion. Our technicians are trained and experienced in using our specialized equipment to safely remove combustible dust. To learn more about how you can prevent combustible dust in your facilities, click to read Service-Tech president Alan Sutton's article published in the Ohio Public Facilities Maintenance Association (OPFMA) newsletter: Prevention of Combustible Dust Article.
Industrial curing ovens
A recognized leader in the field of industrial process oven cleaning, we offer extensive experience in cleaning various thermal curing ovens, such as pin ovens, inside bake ovens, wicket ovens and continuous film ovens.
Process exhaust and dust collector systems
Accumulation of debris within the ductwork of process exhaust systems decreases the system's ability to properly expel dust and fumes from the building. This contributes to poor indoor air quality as well as increases the risk of fire and other safety hazards. A proper cleaning will: 1) remove potentially hazardous residue 2) improve the health and safety of employees and 3) lower operational and maintenance costs.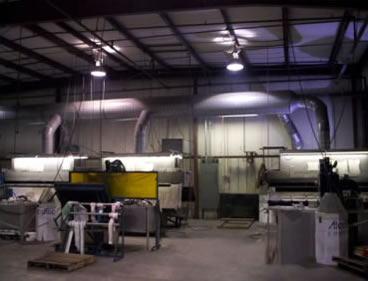 CO2 blast cleaning
CO2 or dry ice blasting uses tiny dry ice particles propelled by compressed air to remove contamination from surface areas. Upon impact, the solid dry ice expands and then converts to a harmless gas. This results in a clean, dry, undamaged surface, with no secondary waste to clean up. The process is very versatile; it can remove dust from delicate electrical components or layers of heavily encrusted coats of paint.
Facility Deep Cleaning Services
Our Facility Deep Cleaning works specifically to apply an EPA-registered disinfectant (qualified for use against COVID-19) to attack the viral and bacterial germs that may be harboring in your facilities. Our technicians are specifically trained in spraying, wiping down, and cleaning work surfaces and other hard surfaces.
Typically, this involves cleaning of high-touch hard surfaces, counters, desks, doorknobs, light switches, seating and air vents (grilles and diffusers). We also have the capability to apply fog cleaning and the disinfectant to areas that are difficult to reach.
Cleaning can include all areas of your building, but we most recommend high-traffic areas, such as: the cafeteria, meeting rooms, offices, classrooms, lobbies and other common areas.
Industrial cleaning and maintenance services:
deep cleaning services
industrial exhaust systems
dust collecting systems
stack cleaning
industrial ovens
fire damper inspections
conveying systems
restroom and general exhaust systems
overhead structural steel, ceilings walls and cranes
computer room sub-floors
lab hood exhaust systems
laundry exhaust systems
Hot/high-pressure cleaning
Additional specialized industrial cleaning services:
space heaters and make-up air systems
interior/exterior wall cleaning
paint spray booths and stacks
roof fans and ventilators
filter changing and cleaning
heat exchangers and tube cleaning
personnel and pedestal fans
light fixture cleaning and re-lamping
other specialty cleaning services per your specs
Our technicians are certified and receive annual training in several industrial standards in order to provide safe cleaning practices and building safety. Pictured here is a kitchen exhaust system properly contained before cleaning the adjacent industrial ovens. Such containment procedures are critical to prevent any cross contamination. This is just one example of industry protocols we follow to protect your equipment and building occupants.
You actually exceeded my expectations. I figured you were just going to scrape and vacuum the inside of the stack. Plus you guys had everything covered and then cleaned up so that there wasn't a mess. Thank you!
Marshall Randleman,
Sanitation Manager
New Horizons Baking Company – Norwalk
We strictly adhere to OSHA safety regulations, including those listed below. Service-Tech employees also receive our own corporate safety and health training program, followed by an annual safety review. Additionally, we administer a Drug-Free Safety Program, as well as pre-employment and random drug testing.
fall protection
confined space entry
aerial lift operation

lock-out/tag-out
respiratory protection
hazardous communication
Each Service-Tech location offers industrial cleaning:
Our regional offices serve customers throughout the country. Click Contact Us to see which of our locations can best serve you.

has received the National Air Duct Cleaners Association Safety Award for 19 consecutive years.