We know that in order to keep your facility running efficiently with few-to-no interruptions, as well as to retain team members and ensure they're productive and happy, you have to maintain a safe and clean work environment.

One major contributing factor to a poor indoor air environment is a contaminated air duct system.
The Importance of Duct Cleaning Commercial Buildings
Not only is this adversely affecting your employees' work performance, but it's causing absenteeism and resulting in lost productivity for your company. The solution is employing the services of a professional air duct cleaning service. One with the experience, technology, and equipment needed for proper air duct cleaning.
Contaminated air ducts contribute to poor indoor air quality (IAQ). The Environmental Protection Agency (EPA) ranks indoor air pollution (also known as sick building syndrome or SBS) among the top five environmental risks to public health. To improve IAQ in your facility, you need to invest in a professional air duct cleaning service and work with an HVAC system cleaning partner that understands the challenges businesses like yours face and what it takes to keep your environment safe and healthy.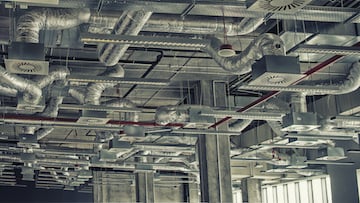 Complete cleaning of your HVAC system is an important aspect of keeping the system operating at peak efficiency. The National Air Duct Cleaners Association (NADCA) sets the industry standard for HVAC cleaning, and when done correctly, HVAC cleaning can have many benefits, including:
Cleaner, healthier indoor air
Lower operational and maintenance costs
Energy savings due to improved heating/cooling equipment efficiency
Greater work productivity due to fewer illnesses
Improved government inspection ratings
Cleaner offices, classrooms, facilities, and other workplace environments
A more professional image with an improved environment


Read More – Why Commercial HVAC and Air Duct Cleaning is a Great Investment
Commercial Air Duct Cleaning FAQs
How Often Should I Have My HVAC and Air Vents Cleaned?
Air ducts, like any other HVAC system, require frequent cleaning to ensure maximum efficiency. NADCA recommends air duct cleaning every three to five years.
In some settings, however, the need for air duct cleaning is more immediate. Food manufacturers, for instance, require duct cleaning services on a quarterly, semi-annual and annual basis due to the food particulate they get in their system, leading to mold and pest concerns. The same goes for manufacturing operations that create combustible dust hazards.
Hospitals also need HVAC duct cleaning services on a much more regular basis because they're concerned about any kind of particulate posing a risk to patients.
How Much Does Commercial Air Duct Cleaning Cost?
The air duct cleaning for a small home will often start at $400 while commercial air duct cleaning starts at $1,000 to $2,000 and above.
How Long Does It Take to Clean a Commercial HVAC System?
Depending on the size and scope of your facility, it can take anywhere from one day to a weekend to three or four weeks. A reasonably small office can be cleaned in less than a week or over a weekend.
There are several factors, however, that affect cost and time estimates, such as:
System size
System accessibility
Type of ductwork
Level of contamination
Number of crew members required
NADCA Certified Air Duct Cleaning
NADCA recommends cleaning the entire HVAC system, including the following components:
Air ducts
Air cleaner
Air filter
Air plenum
Coils
Grills
Drain pan
Registers
Blower motor and assembly
Heat exchanger
NADCA members are accustomed to handling a wide range of projects for commercial and industrial buildings. Because of this, when hiring a NADCA member, a high level of performance should be expected. Not only are technicians required to adhere to industry standards and guidelines, but they're also expected to inform the client of any obstacles that may prevent them from doing so.
The most effective way to clean air ducts and ventilation systems is to employ source removal methods of cleaning. This requires a contractor to place the HVAC system under negative pressure by using a specialized, powerful vacuum.
While the vacuum draws air through the system, brushes are inserted into the ducts to dislodge dirt and debris that have adhered to interior surfaces. The unstuck dirt and debris travel down the ducts into the vacuum, out of the system and the building.
How to Choose the Right Commercial Air Duct Cleaners
Use the following checklist as a guide when selecting an HVAC system cleaner:
Be sure the company has been in business long enough to have adequate experience
Get proof the company is properly licensed and adequately insured
Verify that the company is certified by NADCA to perform HVAC system cleaning
Make sure the company will clean and visually inspect all of the air ducts and related system components
Ask if the company has the proper equipment to effectively perform cleaning and if it has done work in facilities similar to yours. Get references, if possible.


Why Should I Hire a NADCA Certified Air Duct Cleaners?
NADCA members sign a code of ethics agreeing to protect the consumer and follow NADCA standards. To be admitted to NADCA, the air duct cleaning company must meet specific stringent requirements, such as employing certified air system cleaning specialists (ASCS).


An ASCS must pass the NADCA certification examination, demonstrating extensive knowledge in HVAC design and cleaning methodologies. They are also required to further their industry education by attending seminars in order to maintain their NADCA certification status.
Service-Tech: Your Commercial Air Duct Cleaning Company
Minimize machine downtime and maintain a clean and safe environment for your employees with an HVAC system cleaning partner backed by a history built on hard work, integrity, and a commitment to excellent service.
Service-Tech Corporation specializes in complete HVAC and industrial cleaning that reduces safety risks, prolongs equipment life, and improves the indoor air quality of your environment. Contact us today.