Serving Northeast Ohio, Indiana, Michigan and other Midwestern states and the U.S. Northeast Region (PA, NY, VT, CT, NH, ME, MA, RI)
Service-Tech Corporation
7589 First PIace
Cleveland, OH 44146
Phone:
Hours
Monday: 8am – 4:30pm
Tuesday: 8am – 4:30pm
Wednesday: 8am – 4:30pm
Thursday: 8am – 4:30pm
Friday: 8am – 4:30pm
Specialists in industrial cleaning and air duct maintenance/cleaning
Experienced ■ safe ■ efficient ■ thorough ■ reliable
For 60 years, Service-Tech has provided a wide range of industrial cleaning and maintenance solutions for customers throughout Northeast Ohio and beyond. Using proven processes and advanced equipment, our certified technicians can tackle all areas of your buildings.
Industrial & Facilities Cleaning Services. We offer a wide range of facility cleaning and maintenance solutions, including: industrial cure ovens, process exhaust systems (blowers/fans/duct-work), dust collecting systems, stack cleaning, fire damper inspections, conveying systems, restroom and general exhaust systems, overhead structural steel, ceilings walls and cranes, computer room sub-floors, lab hood exhaust systems, laundry exhaust systems, and hot/high-pressure cleaning. Also, space heaters and make-up air systems, interior/exterior wall cleaning, paint spray booths/stacks, roof fans/ventilators, filter changing/cleaning, heat ex-changers and tube cleaning, personnel and pedestal fans, light fixture cleaning and re-lamping, and any additional specialty cleaning per your building specs.
Commercial & Residential Air Duct/Complete HVAC System Cleaning & Restoration.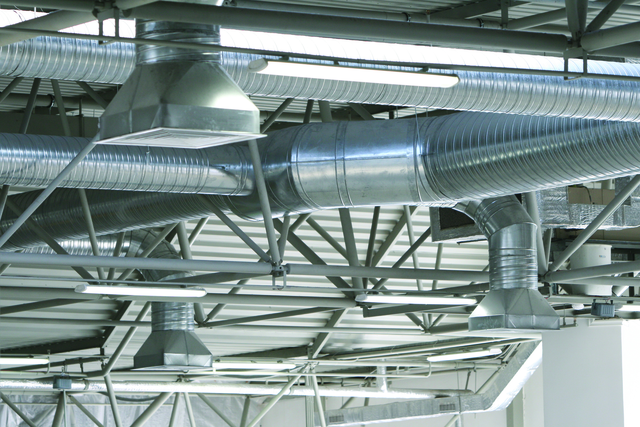 As members of the National Air Duct Cleaners Association, we follow all NADCA specifications. Air handling equipment, including all fresh air intake and return ducts, heating and cooling coils, and fans are thoroughly washed and reset. We clean A/C unit condenser coils with non-damaging low-volume, low-pressure washing system. Additionally, we provide a number of restoration services including antimicrobial coatings, surface coatings for deteriorated fiberglass, coating for rusted metal surfaces, drain pan coating and insulation replacement.
Check out how dirty air ducts lead to the dreaded Cleveland Crud: http://bit.ly/ClevelandCrud
Cooling Tower Cleaning & Maintenance. We service the different components throughout systems, from the rooftop fan housing down to the sump pit. Cleaning and maintenance processes include, but are not limited to, high-volume pressure washing, brushing, scraping, vacuuming and chemical cleaning. In climates such as Cleveland's, OSHA recommends cleaning towers be thoroughly cleaned and disinfected twice a year — before the start of the cooling season and after shutdown in the fall.
Industrial Ovens & Exhaust Systems Cleaning. We perform thorough inspections and cleanings of various types of industrial processing equipment, such as industrial curing ovens and process exhaust systems. If not properly maintained, the accumulation of debris within industrial curing ovens can lead to product quality assurance failures. Debris found within the ductwork of process exhaust systems decreases a system's ability to properly expel dust and fumes, contributing to poor indoor air quality and risk of fire and other safety hazards. During cleaning, our technicians use proper containment protocols.
Kitchen Exhaust Hood & Equipment Cleaning. Consistent maintenance of kitchen hood exhaust systems is a primary defense against fire hazards. Our cleaning methods remove the grease and flammable residues from the interior surfaces of the hood, filters, duct-work and exhaust fans in compliance with all applicable municipal, state and National Fire Protection Association codes. Our specifications (which include the filter plenum, and the interior of ductwork to and including the exhaust fan located on the roof) are as follows: 1) Remove filters, scrape and wash plenum walls, filter frames and fire suppression equipment (not including the fusible links and trigger mechanisms) 2) Scrape and/or brush the interior surfaces of all accessible horizontal and vertical duct-work 3) Wash all fan blades, interior and exterior of fan housing and drip pans (hot, high-pressure wash when possible) 4) Clean all louvers and dampers 5) Replace filters to their original position.
Overhead Cleaning & Painting/Removal of Combustible Dust.
These services are important to ensure: 1) decreased risk of dirt explosions 2) safer and brighter environment 3) less contamination to product 4) compliance with industry standards. Over time, dust and debris from manufacturing operations collect on overhead pipes, duct-work, light fixtures, structural steel, ceiling plenums, etc. This dust builds up to the point where vibration shakes it loose, possibly contaminating product and production equipment, as well as possibly causing a hazardous condition — combustible dust.
Air Duct Leakage Repair. Leaking ducts allows heat to escape buildings during Cleveland's cold months and cool air during the summer forcing the a/c to work even harder. As a licensed provider of AEROSEAL DUCT DIAGNOSTICS and SEALING TECHNOLOGY, we can repair leaks extremely effectively and efficiently. A computer-controlled, patented process, Aeroseal detects and seals leaks up to 5/8 of an inch.The process pressurizes the duct system by temporarily blocking inlet and outlet points and injecting a vinyl polymer in vapor form that stays suspended in the air until it detects a leak. The sealant particles are gradually deposited in the leaks by the exiting air-stream as it bends and accelerates through the leaks. As the process continues, the particles begin to accumulate in the leaking cracks and holes until they are eventually sealed.
Our services include: Industrial Cleaning Services, HVAC Air Duct Leak Repair, Cooling Tower Maintenance, Fire Damper Inspections, HVAC Duct Cleaning, Industrial Cleaning Kitchen, Exhaust Hood Cleaning, Combustible Dust Removal and Residential Air Duct Cleaning. (See complete list under Our Services)
Our Florida location specializes in handling cleaning and maintenance projects common in Southern climates. But we also have services such as HVAC Cleaning in Dayton, HVAC Cleaning in Cleveland, HVAC Cleaning Tampa and HVAC Cleaning Columbus.
We strictly adhere to Occupational Safety and Health Administration (OSHA) standards and regulations as well as any safety requirements specific to your facility.We also offer Industrial Cleaning Jobs!
Providing cleaner, healthier, safer environments
Manufacturing and food processing plants

Hospitals and health care facilities

Universities and schools

Office buildings
Government facilities

Restaurants

Marine vessels

Residential duct cleaning
Our strength lies in the ability to assemble the right people and equip them with technically advanced tools, materials and cleaning processes. Quality people providing superior service — that's our mission.
– Alan Sutton, President Emeritus
Why is it important to clean HVAC systems? To save on energy and improve indoor air quality. A dirty, contaminated system is forced to work harder, which not only consumes more energy, but also shortens the life of the system. And a contaminated system puts people with environmental allergies and respiratory conditions at risk.
– Greg Lint, National Sales Manager
Reviews from a few of our Cleveland-office customers
Service Tech Corp has been a partner with Marc's stores for many years. They provide quality service with a courteous staff. They are always willing to work around our schedule so we can provide quality service to our customers without interruption. I look forward to many more years working together. Thanks Service Tech.
Jim Kelly
Marc's
Service-Tech was hired to clean up 28 large air handling units for us. We had significant dirt build up and damaged insulation in some of the units. After reviewing the scope of work and scheduling, their crew got to work as scheduled. They were fast and efficient and did a very thorough job. In many cases exceeding expectations for work performed. I have no hesitation of contracting them for additional work or recommending them to others.
Robert Boxler
Akron Public Schools
Good crew you sent down here to handle the air duct cleaning. The guys knew just what needed to be done and then got it done! They did a great job cleaning up too. Thank you!
Andy Kinn
IB Tech OH
You actually exceeded my expectations. I figured you were just going to scrape and vacuum the inside of the stack. Plus you guys had everything covered and then cleaned up so that there wasn't a mess. Thank you!
Marshall Randleman
Sanitation Manager
New Horizons Baking Company – Norwalk

has received the National Air Duct Cleaners Association Safety Award for 19 consecutive years.
Contact for a
FREE ESTIMATE
We use Service-Tech because their work is excellent, the service technicians are courteous and they pay close attention to a facility's needs. I recommend STC to anyone inquiring about their services.
Matt McGahhey
Maintenance Planning
Pepperidge Farms